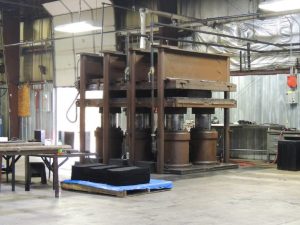 Black Iron Rubber is an integrated rubber products manufacturer that is experienced in producing quality consistent rubber products using non traditional wide spec raw materials.
With mixing, molding, fabricating and processing equipment in one 33,000 sq. ft. facility, we replicate proven systems working with these polymers to produce finished goods to effectively compete with traditional rubber products and 100% recycled products on a price-performance basis.
We employ a #9 Banbury internal mixer and Farrell extruder, two – 60″ x 90″ double opening presses, one- 78″ x 113″ press, one of each 48″ x 48″, 32″ x 32″ and 24″ x 24″ presses in our facility. We have a series of specialized equipment for categorizing, sectioning and pre-processing raw materials, along with a fine grind line for reprocessing and recycling mold flash generated from production.